Posted by Patrick Baselier on 30-5-2014
I think this subject makes a pretty good candidate for a recipe in the Ember cookbook. As a matter of fact, I suggested this as a pull request, but until it's accepted, I hope this post will help you.
Problem
You have a collection of Post model objects displayed in a template and you want to be able to sort ascending or descending on one or more keys.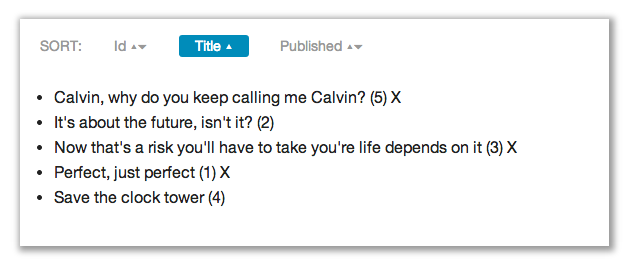 Please see this jsFiddle for a working example.
Solution
Create (or if you already have one: update) a PostsController that contains an action that do the actual sorting. This action called is when you click on an element in the template. For this element you create an Ember component that implements a click event handler and delegates the event to the controller. The main reason for creating a component for the sort element is that you want to update the state of the element with an appropriate icon (or color or whatever) indicating which key is used for sorting and if sorting happened in an ascending or descending order. By passing the controller's sortProperties and sortAscending properties we're able to remember the state and update the look of the element accordingly. The sorting is done by the controller. The passed property indicated the key the content needs to be sorted on. If the content is already sorted on this property and assume we want to sort in reverse order. Otherwise we sort ascending. Hence the return false to prevent errors when calling the sort action from a component (see later):
1
2
3
4
5
6
7
8
9
10
11
12


App

.

PostsController

 

=

 

Ember

.

ArrayController

.

extend

({


  

actions

:

 

{


    

sort

:

 

function

(

property

)

 

{


      

if

 

(

this

.

get

(

'

isSorted

'

)

 

&&

 

(

this

.

get

(

'

sortProperties

'

)[

0

]

 

===

 

property

))

 

{


        

this

.

toggleProperty

(

'

sortAscending

'

);


      

}

 

else

 

{


        

this

.

set

(

'

sortProperties

'

,

 

[

property

]);


        

this

.

set

(

'

sortAscending

'

,

 

true

);


      

}


    

}


  

}




});



Instead of calling the sort action from an {{action}} helper, we create a component sorting-key and have this component delegate the event to the controller:
1
2
3
4
5
6
7
8
9
10
11
12
13
14
15
16
17
18
19
20


App

.

SortingKeyComponent

 

=

 

Ember

.

Component

.

extend

({


  

tagName

:

 

'

dd

'

,


  

classNameBindings

:

 

[

'

isSorted:active

'

,

 

'

isAsc:asc

'

,

 

'

isDesc:desc

'

],


  

isSorted

:

 

(

function

()

 

{


    

if

 

this

.

get

(

'

sortProperties

'

)

 

{


      

return

 

this

.

get

(

'

sortProperties

'

)[

0

]

 

===

 

this

.

get

(

'

key

'

);


    

}

 

else

 

{


      

return

 

false

;


    

}


  

}).

property

(

'

sortProperties

'

),


  

isAsc

:

 

(

function

()

 

{


    

return

 

this

.

get

(

'

isSorted

'

)

 

&&

 

this

.

get

(

'

sortAscending

'

);


  

}).

property

(

'

isSorted

'

,

 

'

sortAscending

'

),


  

isDesc

:

 

(

function

()

 

{


    

return

 

this

.

get

(

'

isSorted

'

)

 

&&

 

!

this

.

get

(

'

sortAscending

'

);


  

}).

property

(

'

isSorted

'

,

 

'

sortAscending

'

),


  

click

:

 

function

()

 

{


    

this

.

sendAction

(

'

action

'

,

 

this

.

get

(

'

key

'

));


  

}




});



The corresponding template:
1
2
3


<script 

type=

"text/x-handlebars"

 

id=

"components/sorting-key"

>


  

<

a

 

{{

action

 

'

sort

'

 

'

title

'

}}

>

{{

title

}}

<

/a

>


</script>



The component uses sortProperties and sortAscending to store the current sort key and order. The values are passed as arguments by the component element and represent the sortProperties and sortAscending properties from the controller. These arguments are linked to the controller; when, for example, the sortAscending property on the controller toggles from true to false, the sortAscending property for each instance of a component updates to false. If you find the property names used by the component confusing, feel free to use other names. The component uses these properties in turn to update other properties such as isSorted (is the content sorted by the key used by a component), isAsc and isDesc (when the content is sorted by the component's key is it then sorted ascending or descending). These properties are used to update the classNames of the component via the classNameBindings. The value used for tagName can vary, here we use dd, since we wrap the component elements in a definition list (<dl>) element. To add a sort section to our posts template we can use the following code:
1
2
3
4
5
6
7
8
9
10
11
12
13
14
15
16
17
18


<dl

 

class=

"sub-nav"

>


  

<dt>

Sort:

</dt>


  

{{

sorting-key

 

title

=

'Id'


                

key

=

'id'


                

sortProperties

=

sortProperties


                

sortAscending

=

sortAscending


                

action

=

'sort'

}}


  

{{

sorting-key

 

title

=

'Title'


                

key

=

'title'


                

sortProperties

=

sortProperties


                

sortAscending

=

sortAscending


                

action

=

'sort'

}}


  

{{

sorting-key

 

title

=

'Published'


                

key

=

'published'


                

sortProperties

=

sortProperties


                

sortAscending

=

sortAscending


                

action

=

'sort'

}}




</dl>



The generated markup (ignoring the ember script tags, id and class attributes) for the Title element looks like the following:
1
2
3


<dd>


  

<a>

Title

</a>




</dd>



When you click the Title key, classNameBindings adds the proper classnames:
1
2
3


<dd

 

class=

'active asc'

>


  

<a>

Title

</a>




</dd>



By using CSS or Sass you can sorting arrows or other indicators to the elements:
1
2
3
4
5
6
7
8
9
10
11
12
13


.sub-nav

 

dd

 

{


  

a

:after

 

{


    

content

:

 

" 25B425BE"

;


  

}



  

&

.asc

 

a

:after

 

{


    

content

:

 

" 25B4"

;


  

}



  

&

.desc

 

a

:after

 

{


    

content

:

 

" 25BE"

;


  

}




}



Using ES6 modules
The previous code samples use a global namespace variable App, but with ES6 module syntax right on the corner and Ember CLI available, converting the code sample is dead simple:
1
2
3
4
5
6
7
8
9
10
11
12
13
14
15
16
17
18
19
20
21
22
23
24
25
26
27
28
29
30
31
32
33
34
35
36
37
38
39


// app/controllers/posts.js




var

 

PostsController

 

=

 

Ember

.

ArrayController

.

extend

({


  

actions

:

 

{


    

sort

:

 

function

(

property

)

 

{


      

if

 

(

this

.

get

(

'

isSorted

'

)

 

&&

 

(

this

.

get

(

'

sortProperties

'

)[

0

]

 

===

 

property

))

 

{


        

this

.

toggleProperty

(

'

sortAscending

'

);


      

}

 

else

 

{


        

this

.

set

(

'

sortProperties

'

,

 

[

property

]);


        

this

.

set

(

'

sortAscending

'

,

 

true

);


      

}


    

}


  

}




});





export

 

default

 

PostsController

;





// app/components/sorting-key.js




var

 

SortingKeyComponent

 

=

 

Ember

.

Component

.

extend

({


  

tagName

:

 

'

dd

'

,


  

classNameBindings

:

 

[

'

isSorted:active

'

,

 

'

isAsc:asc

'

,

 

'

isDesc:desc

'

],


  

isSorted

:

 

(

function

()

 

{


    

if

 

this

.

get

(

'

sortProperties

'

)

 

{


      

return

 

this

.

get

(

'

sortProperties

'

)[

0

]

 

===

 

this

.

get

(

'

key

'

);


    

}

 

else

 

{


      

return

 

false

;


    

}


  

}).

property

(

'

sortProperties

'

),


  

isAsc

:

 

(

function

()

 

{


    

return

 

this

.

get

(

'

isSorted

'

)

 

&&

 

this

.

get

(

'

sortAscending

'

);


  

}).

property

(

'

isSorted

'

,

 

'

sortAscending

'

),


  

isDesc

:

 

(

function

()

 

{


    

return

 

this

.

get

(

'

isSorted

'

)

 

&&

 

!

this

.

get

(

'

sortAscending

'

);


  

}).

property

(

'

isSorted

'

,

 

'

sortAscending

'

),


  

click

:

 

function

()

 

{


    

this

.

sendAction

(

'

action

'

,

 

this

.

get

(

'

key

'

));


  

}




});





export

 

default

 

SortingKeyComponent

;